Chef Profiles Virgilio Martinez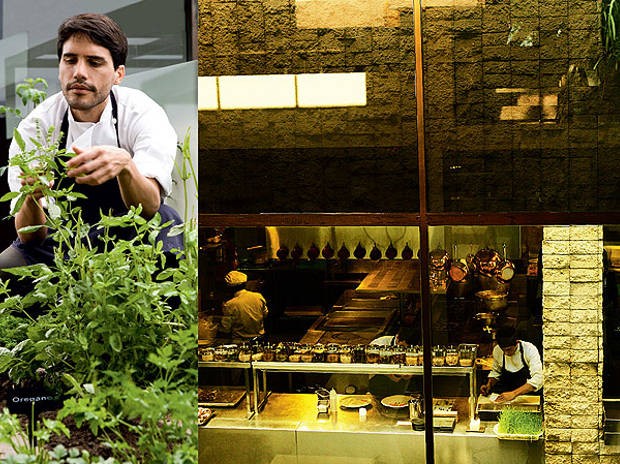 Virgilio Martinez: 28 years old, Peruvian, a degree in law and a lot of trips all over the world. He's the executive chef of "Astrid & Gaston", a famous restaurant located in Lima, Bogota and Madrid.
His passion for cooking arose accidentally: he got his degree in law and then he decided to travel for some time, to make different experiences abroad. When he arrived in Canada, he first got a job as a cooker. His interest and fervor for that job increased so much that he thought he was determined to attend the Cordon Bleu School. And he managed to.
After that, he has continued his experiences in each corner of the planet: he studied and worked in France, in the Far East, in New York at the Lutece and then in the Astrid & Gaston of Lima. He believes that travels play a fundamental role in the life of chef: "it allows you to meet new ingredients and cuisine techniques, and to develop your creativity".
Peruvian cooking like his way of cooking is the outcome of different gastronomic traditions, from Asia especially China and Japan but also from Africa and Inca populations. In Peru there's a multicolor and lively kitchen, full of varieties, with an infinite range of products, which come from the 84 micro climates of that region, where sea, mountain and forest stay together. They use particular ingredients: Guinea pig's meat, cow heart, quinoa, etc. Pepper is an ingredient always utilized in Peruvian dishes and in Virgilio's dishes in every different variety: fresh, dried, sweet, spiced, hot, red, green… In Andes' region it is prepared a paste of pepper used to marinate meat. But Virgilio's favorite ingredient remain the ginger.
Their national drink is the Pisco, a distillate of Moscatel grapes, cultivated in the Andes. It is conserved in particular black bottles and it is used to prepare a famous cocktail, the Pisco Sour.
Virgilio has recently hired the direction of the last Astrid & Gaston, that of Madrid. Three restaurants in three countries which have differences, but a guideline in common: they try to adapt to the local contests, even if they try to maintain a Peruvian way of cooking. So, they use local products in Lima and Bogota, but they bring a lot of raw materials from central and south America to Spain, because in Madrid people expect to try an exotic cuisine.
The Peruvian dish that better represents Virgilio Martinez is the "Cebiche", fish marinated with lime, chili peppers, coriander and served with orange sweet potatoes.
He's going to be one of the celebrities of the next years in the world of cooking. Surely Virgilio doesn't lack of talent.
Reference:
1. Virgilio Martínez Véliz
2. Meet Peru's best chef, Virgilio Martinez – CNN.com